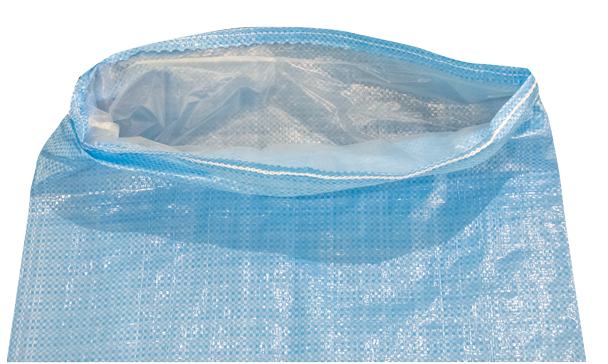 These bags have an additional plastic insert, which makes the bag dust-tight. The goods stored in it are protected from moisture. An additional advantage of this type of bags is the impermeability of the fragrances, which is why they are great for packaging substances with an intense fragrance, guaranteeing that they will not penetrate to the outside.
The use of bags with a haul:
Packaging of feed concentrates, fishmeal and other substances requiring tight closure.
Available colors: white, yellow, blue.
Bag sizes:
| | |
| --- | --- |
| Size: | Capacity: |
| 40 cm x 60 cm | ~ 15 kg |
| 50 cm x 80 cm | ~ 25 kg |
| 50 cm x 85 cm | ~ 30 kg |
| 50 cm x 90 cm | ~ 30 kg |
| 55 cm x 80 cm | ~ 30 kg |
| 55 cm x 85 cm | ~ 30 kg |
| 60 cm x 100 cm | ~ 40 kg |
| 60 cm x 105 cm | ~ 50 kg |
| 60 cm x 110 cm | ~ 50 kg |
| 65 cm x 105 cm | ~ 50 kg |
| 80 cm x 125 cm | ~ 50 kg |
| 80 cm x 180 cm | ~ 50 kg |