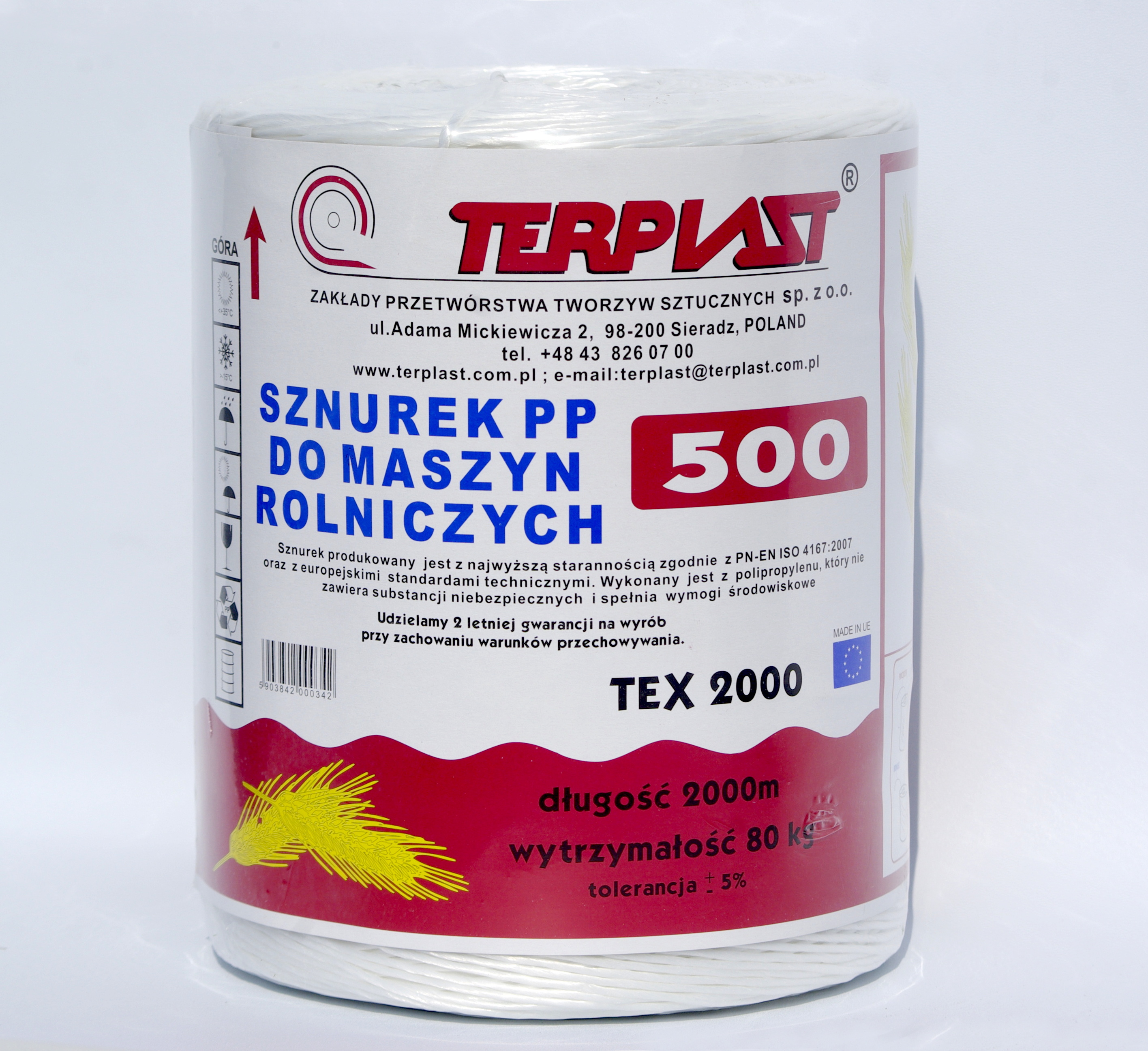 Agricultural twine is made of the highest quality polypropylene. All twines have UV stabilization (standard).
Applications:
in sheaf-binders and low-density presses (700-1000 m/kg),
in straw, hay and forage baling presses (330-1000 m/kg),
in high-density crushing presses (110-330 m/kg),
in hop-growing as a support for shoots,
others, e.g. bags binding (700-1000 m/kg).

Available colors: white, others on special order.

Parameters of the offered twine are presented below:
| | | | | | | | | |
| --- | --- | --- | --- | --- | --- | --- | --- | --- |
| linear mass m/kg | linear mass (tex) | weight of a ball (kg) | number of meters in the yarn-beam | tensile strength min (kg) | curl (rpm) | diameter of the yarn-beam (mm) | height of the ball (mm) | number of balls on a pallet |
| 1000 | 1000 | 2 | 2000 | 40 | 40 | 190 | 150 | 420 |
| 1000 | 1000 | 5 | 5000 | 40 | 40 | 230 | 255 | 160 |
| 770 | 1300 | 4 | 3000 | 53 | 40 | 220 | 250 | 240 |
| 700 | 1400 | 2 | 1400 | 56 | 34 | 200 | 150 | 420 |
| 700 | 1400 | 4 | 2800 | 56 | 34 | 220 | 255 | 240 |
| 600 | 1670 | 2 | 1200 | 67 | 34 | 200 | 150 | 420 |
| 600 | 1670 | 5 | 3000 | 67 | 34 | 230 | 255 | 160 |
| 500 | 2000 | 4 | 2000 | 80 | 34 | 220 | 250 | 240 |
| 500 | 2000 | 5 | 2500 | 80 | 34 | 230 | 255 | 160 |
| POLI 500 | 2000 | 4 | 2000 | 85 | 34 | 220 | 250 | 240 |
| 400 | 2500 | 4 | 1600 | 97 | 34 | 220 | 250 | 240 |
| 400 | 2500 | 5 | 2000 | 97 | 34 | 240 | 255 | 160 |
| 330 | 3000 | 4,8 | 1600 | 117 | 34 | 230 | 250 | 160 |
| 330 | 3000 | 5 | 1670 | 117 | 34 | 240 | 255 | 160 |
| 130 | 7700 | 9 | 1170 | 300 | 25 | 280-290 | 310 | 96 |
| 130 | 7700 | 10 | 1300 | 300 | 25 | 290-300 | 310 | 112 |
| 110 | 9090 | 9 | 990 | 364 | 25 | 280-290 | 310 | 96 |
| 110 | 9090 | 10 | 1100 | 364 | 25 | 290-300 | 310 | 112 |